Top Macau Attractions – Must-Visit Places in Macau

Macau's heritage preservation forms an integral part of its branding and identity. It has preserved an extraordinary number of attractive historic buildings. Within a short distance, you can easily find Chinese temples and Western churches in the same neighbourhood. Here are our recommended list of Top Attractions in Macau, where you can experience the modern and the ancient.

The Macau Peninsula Attractions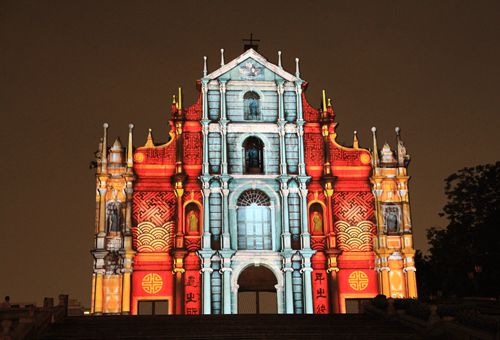 Ruins of St. Paul's
The Ruins of St. Paul's was originally the Church of Mater Dei. But unfortunately, a violent typhoon hit Macau in 1835 and the church caught fire leaving its glory a history. The stunning facade is now the most iconic landmark of Macau with UNESCO World Heritage status.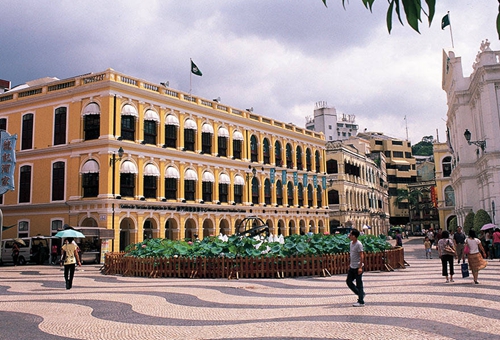 Senado Square
Located in the central area of the Macau Peninsula, Senado Square is a public square in Macau. For over a hundred years, it has always been the city centre. Today, it is still one of the most popular venues for public events. In 2005, it was inscribed on UNESCO's World Heritage List as it forms part of the Historic Centre of Macau.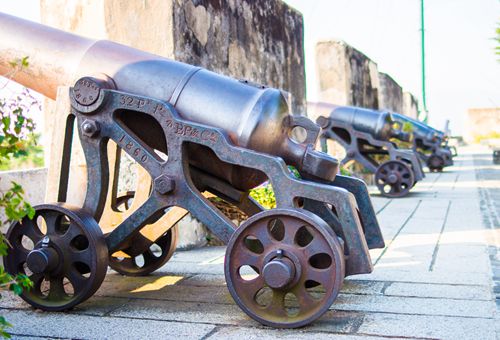 Fortaleza do Monte
Fortaleza do Monte (Portuguese for Mount Fortress) is the historical military centre of Macau. It was initiated by the Jesuits in 1617, and completed in 1626. It occupies an area of around 8,000 square metres, with 32 cannons placed around the fort, and watchtowers adorning the two corners of the southeast wall. You can enjoy a panoramic view of Macau when visiting here.
A-Ma Temple
Dedicated to the goddess of fishermen, Matsu, A-Ma Temple was built in 1488, and is one of the oldest and most famous Taoist temples in Macau. It consists of the Gate Pavilion, the Memorial Arch, the Prayer Hall, the Hall of Benevolence, the Hall of Guanyin, and Zhengjiao Chanlin (a Buddhist pavilion). It is one of the UNESCO World Heritage sites not to be missed.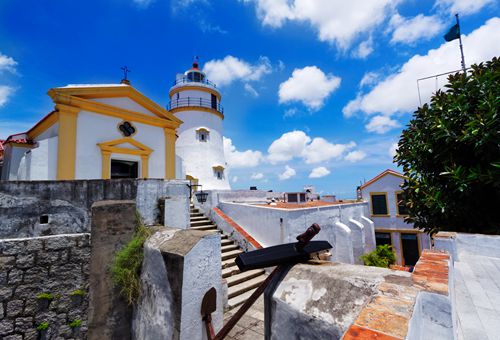 Guia Fortress
The Guia Fortress is a 17th-century colonial military fort, chapel, and lighthouse complex. The lighthouse was constructed between 1864 and 1865, the first Western style lighthouse on the China coast. The chapel's elaborate frescoes depict representations of both western and Chinese themes, displaying motifs of religious and mythological inspiration that are a perfect example of Macao's multicultural dimensions.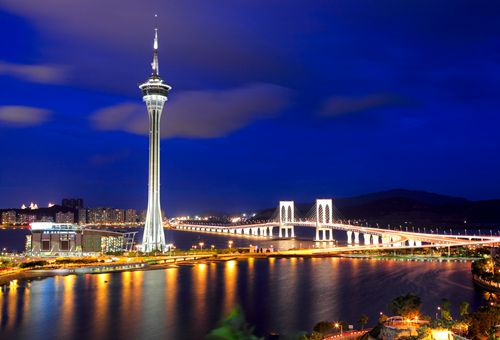 Macau Tower
Designed by Gordon Moller, a famous New Zealand architect, the construction was completed in 2001.The tower is a member of the World Federation of Great Towers. From the observation deck and revolving restaurant of Macau Tower, you will see the magnificent view of Macau city and Pearl River delta. Bungee jump, Skyjump, Skywalk and Tower Climb are perennial favourites, which offer you an unforgettable experience in Macau.
Macao Science Center
Macao Science Center (MSC) aims to promote science popularization and education among local adolescents, to compliment tourism development in Macao and to provide a regional platform for science education, convention and exhibition. The Exhibition Center has 12 permanent galleries of different themes and 2 galleries reserved for special exhibitions. These exhibitions feature scientific knowledge-oriented and interesting interactive exhibits that allow visitors to explore science in a hands-on way.
Attractions on Taipa island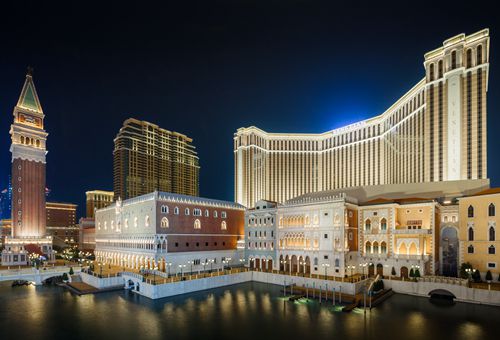 The Venetian Macao
The Venetian Macao, opened in 2007, is the largest single block style hotel in Asia, and the second largest building in the world. The Venetian Macao is an integrated resort offering accommodation, entertainment, shopping, restaurants, meeting and exhibition space. Nothing could be more romantic or intimate than taking a serene gondola ride down the canals of Venice inside the Venetian Macao.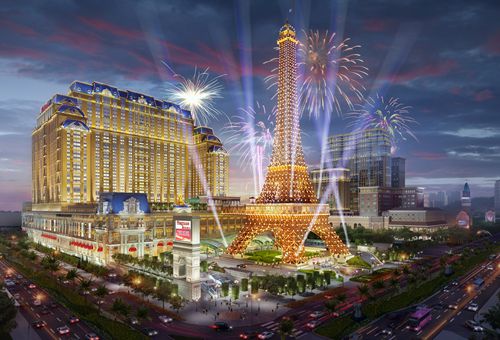 The Parisian Macao
The Parisian Macao, with a half-size Eiffel Tower — the new iconic landmark of Macau, is set to be unveiled in late 2016. The hotel and resort with over 2,900 stunning guestrooms and suites will add another dimension to Sands® Resorts Cotai Strip Macao, as it brings a sense of magic, wonder and the resplendent essence of the famed "City of Light" to Macau.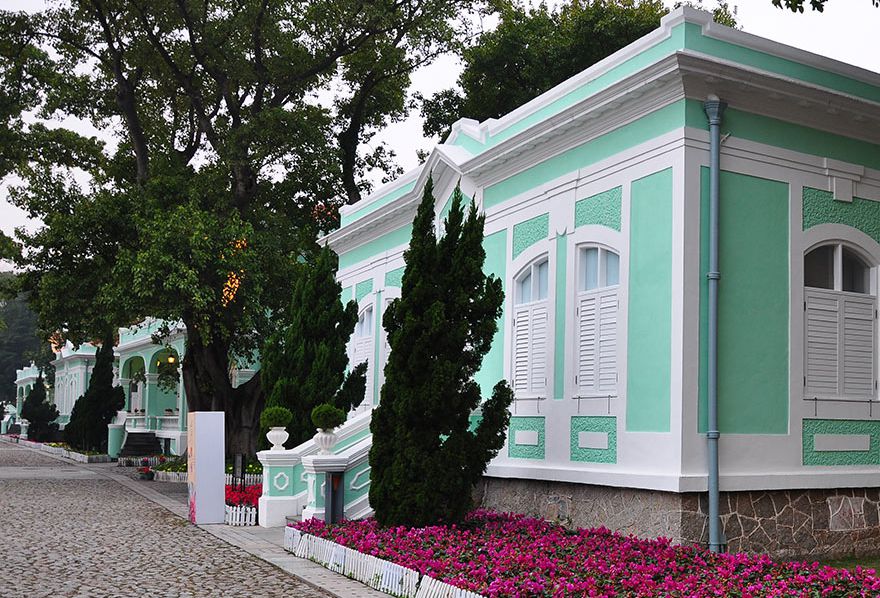 Taipa House Museum
Built in 1921, the Taipa Houses-Museum is composed of more than one Portuguese styled buildings, and were formerly the houses of senior government officers and Macanese families. Overhanging flower baskets and old-fashioned street lamps make it an ideal place for spending a leisurely afternoon.
Attractions on Coloane island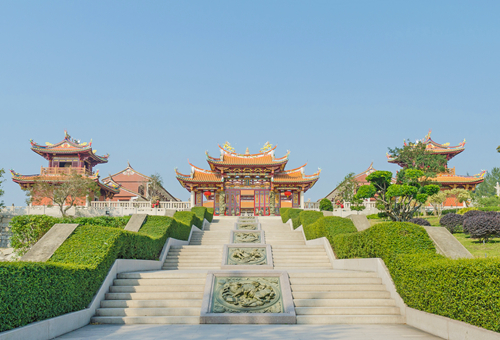 A-Ma Cultural Village
Close to the world's tallest statue of the goddess A-Ma (or named Tin Hau) on the mountaintop on Macao's Coloane Island, A-Ma Cultural Village is a 7,000-sq. m. cultural complex which celebrates the legend of the Goddess of Seafarers. The village architecture mainly comprises a pavilion-style front gate, a carved marble altar, Tin Hau Palace, Dressing Hall along with Bell Tower and Drum Tower.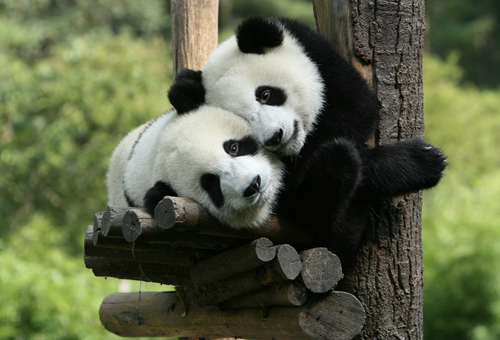 Macau Giant Panda Pavilion
Macau Giant Panda Pavilion is nestled against a hillside in Seac Pai Van Park on Coloane. occupying a fan-shaped layout of about 3,000m2. In 2014, Macau received a new pair of giant pandas from the Chinese Government. Named "Kai Kai" and "Xin Xin", the names chosen for the giant pandas by Macau residents mean "Happy" in English.