Famille Room
---
 47 sqm / 1 Queen Bed and 1 Children's Bunk Bed / 2 Adults + 2 Kids
Each family's needs are unique, but all children need a place to play and all parents need some space to relax. In the parent's area, a king bed, covered in pillows and a soft duvet, welcome parents to Paris. Children, surrounded by bunk beds, blankets, and movies, are only limited by their imaginations as they create and play. When the family is ready to venture out, parents can savour delicacies at Brasserie for brunch while children rule at Qube Kingdom Kid's Play Zone over the slides and games.


High-speed wireless and wired internet



Fully stocked mini bar



Complimentary shuttle bus
CHECK AVAILABILITY >
---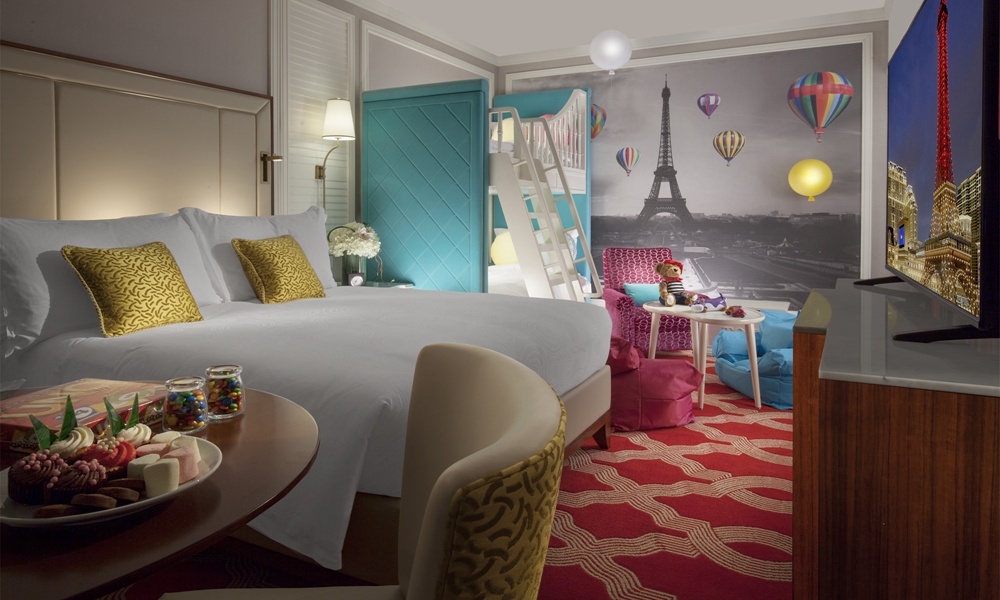 Guests Reviews
---
"Excellent service from this hotel"
 June, 2017 
So satisfied for my stay in Parisian Hotel. All the staff were so friendly, helpful and knowledgeable special thanks to ms. Sara. She provided excellent services... MORE >
---
"A hotel fit for royalty"
 May, 2017 
A very posh hotel that is located along all the other newer and bigger hotels in Macau, designed for luxury. The feeling that you'll get here is extremely pampered... MORE >

These reviews are the subjective opinions of individual travelers and not of TripAdvisor LLC nor of its partners.
© 2017 TripAdvisor LLC
Why Book Direct at ParisianMacao.com?



Inside Your Room

47 square metres
Available for 2 adults and 2 kids
1 queen-sized bed and 1 children's bunk bed
Located on 11th - 25th floor
Standard view
Smoking and non-smoking room available
An extra guest acceptable with additional charge
No extra bed

Bathroom with shower and bathtub
Fully stocked minibar
The Parisian Macao signature bath products
55" HDTV
Wardrobe
In-room safe
Hairdryer
Iron and ironing board
Included with Your Stay

Complimentary wireless and wired Internet access
Check in at 3:00pm, check out by 11:00am