Suncity Group Presents《Grasshopper 17385 World Tour – Macao》Promises to Bring a Night of Samba Dance

Evergreen Cantopop trio to fiesta at The Venetian Macao's Cotai Arena on May 18

(Macao, April 16, 2019) – One of Hong Kong's most famous groups Grasshopper will perform their Suncity Group Presents《 Grasshopper 17385 World Tour – Macao》 concert at The Venetian® Macao's Cotai Arena on May 18, 2019. Tickets will go on sale on April 17 at all Cotai Ticketing box offices.

The trio – Calvin Choy, Remus Choy and Edmond So – will thrill fans with their renowned dynamic song and dance medleys along with all their classic heartfelt ballads, all of which have been updated with new music arrangements. The show will also incorporate elaborate stage and lighting designs, superb audio-visual, extravagant costumes, stylish choreography and upbeat dance moves.

Named due to the similarity of the number 17385 in Mandarin to the phrase "Let's samba together", fans will get to sing and dance along to timeless hits including "Baby, I'm Sorry", "Club Broken Heart", "Blame It On The Samba", and "Glamorous Stage".

Don't miss Suncity Group Presents《Grasshopper 17385 World Tour – Macao》 at The Venetian Macao's Cotai Arena on May 18!

ICBC Sands Lifestyle Mastercard cardholders can enjoy 10% discount on ticket prices as well as earn points when shopping or travelling anywhere in the world and then redeem them in Macao within Sands Resorts Macao's integrated resorts.

Ticketing details:
Event Suncity Group Presents《Grasshopper 17385 World Tour – Macao》

Date and Time May 18, 2019 (Sat) 8 p.m.

Venue Cotai Arena, The Venetian Macao

Ticket Prices MOP/ HKD 1,180 (VIP Reserve)
MOP/ HKD 880 (A Reserve)
MOP/ HKD 580 (B Reserve)
MOP/ HKD 380 (C Reserve)

Ferry Packages Add MOP/HKD 58 to ticket price for a round-trip Cotai Water Jet ferry ticket between Hong Kong and Macao (Only applicable to VIP/A/B Reserve)

Ticketing Outlets Cotai Ticketing
Online: www.cotaiticketing.com

Box offices:

The Parisian Macao - Main Lobby Box Office L1

The Venetian Macao – Cotai Arena and Main Lobby Box Offices

Four Seasons Hotel Macao – The Plaza™ Macao Box Office

Sands® Macao – Level 1 Box Office
Sands® Cotai Central – Sheraton Main Lobby and Holiday Inn Main Lobby Box Offices

Phone:

Macao: +853 2882 8818

Hong Kong: +852 6333 6660

China toll-free: 4001 206 618

Macao Kong Seng Ticketing Network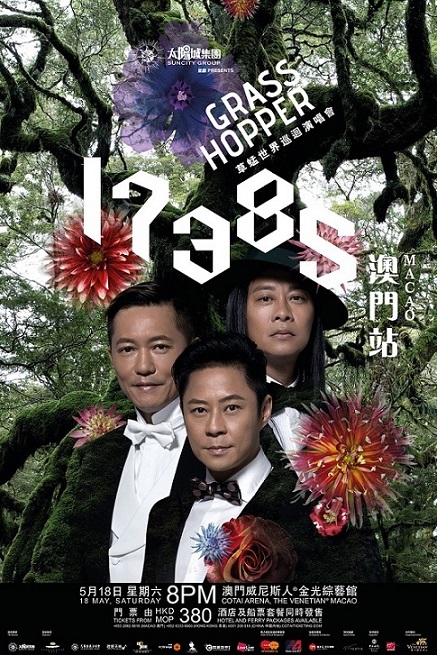 Photo caption: Hong Kong evergreen male group Grasshopper will bring their new Suncity Group Presents《Grasshopper 17385 World Tour - Macao》on May 18, 2019 at the Venetian Macao's Cotai Arena.

For high resolution photos, please access the following:
https://sfs.sands.com.mo/w/WEaLR4Id (Link valid until Apr. 23, 2019)
Username: Sands.PR@sands.com.mo
Password: SCLMacao@2018
(case sensitive)
###



Entertainment at Sands China Properties
Sands China Ltd. has a clear vision to establish Macao as Asia's top entertainment destination.

The 15,000-seat Cotai Arena and 1,800-seat Venetian Theatre are the only venues in Asia ranked in Pollstar's Top 100 Worldwide Arena Venues and Pollstar's Top 200 Worldwide Theatre Venues based on ticket sales. Cotai Arena is the top entertainment destination in southern China, hosting the world and region's biggest names in music, sports and awards shows. Superstars frequently choose the venue as the starting point of their Asian tours.

The 1,800-seat, multi-purpose Venetian Theatre is one of the most luxurious entertainment venues in greater China. Featuring ushers in black tie, champagne service, gourmet food and beverage and other unique, premium amenities, it offers an intimate, luxurious and exclusive venue experience. The Venetian Theatre is playing a key role in bringing the best in international and Chinese entertainment to Macao, with a theatre experience like no other in the region.

Sands® Macao's 650-seat Sands Theatre regularly features internationally-renowned singers, performers and artists of the highest calibre. From traditional Chinese-costumed dance to modern performances, everything from Western rock to Cantonese pop is covered.

At The Parisian Macao the 1,200-seat, purpose-built Parisian Theatre offers an elegant experience for world-class entertainment of all kinds, while the latest venue is the state of the art 1,700-seat Sands Cotai Theatre, purpose-built by Sands China Ltd for the Monkey King – China Show from the renowned Beijing Huayan Group, which recently completed a successful two year residency.

Offering world-class diversity and quality, Sands China Ltd.'s next generation of live venues is ushering in a new era of entertainment in Macao.

For information about upcoming shows and events, visit http://en.sandsresortsmacao.com/macau-shows.html and www.sandsmacao.com/entertainment.html